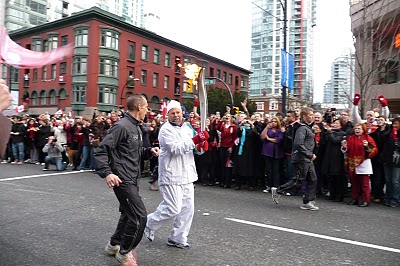 "…with glowing hearts…"
I didn't know this before, but the phrase "with glowing hearts" which is the tagline for the Vancouver 2010 Olympics is actually in the Canadian national anthem.
Today's image was taken this morning on the last day of the Olympic torch relay. I took this just outside the building where I work. I'm not sure who the guy was (and neither did my coworkers) but I feel extremely lucky for this to be my second witnessing of a torch relay (the first one being in Shaoxing in 2008).