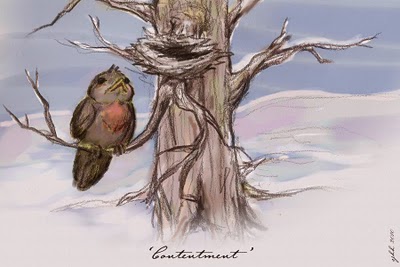 Two days in a row…
I'm making up for lost posts here.
This is based on the following passage:
"It is a dreary, desolate winter scene. There is a dark, stormy, wintery sky, bare trees, and brown grass and dead weeds, with patches of sow over them. On a leafless tree at one side of the picture is an empty and snow-covered nest, and on a branch near sits a little bird, and drive it to some fairer clime, but this bird is sitting there in an attitude of perfect contentment, and has its little head bravely lifted towad the sky, while a winter song is evidently about to burst forth from its tiny throat."

The original sketch was done with Prismacolor colored pencil, then scanned in and colored using a combination of Photoshop and Corel Painter Essentials 4.