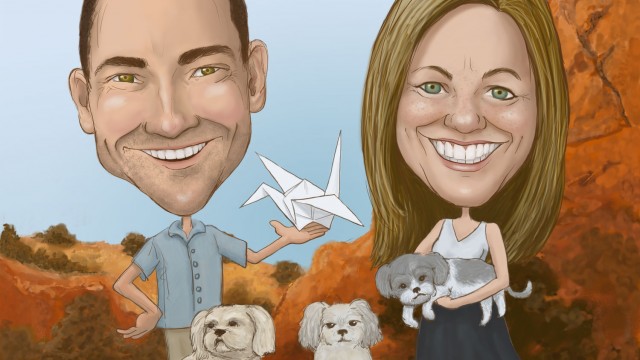 Commission caricature – Box Studios
I'm excited today to reveal a commission caricature that I got to do for Jennifer and Kevin Box of Box Studios. Kevin is a sculptor who creates incredible origami sculptures that are cast from original paperfolds by origami masters. Check them out online at Outside the Box Studio to see more sculptures and learn all about the compelling process of creation.
Kevin and Jennifer live in New Mexico on a beautiful property that they have turned into a sculpture garden to showcase artists' work. They feel deeply connected to the land, so I was asked to use the landscape as the backdrop, and I also included their three dogs who travel with them all over the country!
This was drawn digitally in Photoshop using a Bamboo Pen & Touch tablet.
Want a personalized caricature of you or your loved ones? Contact me today!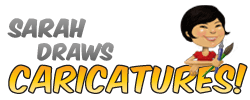 If you're interested in your own caricature for a party or a gift, visit my sister website here: sarahdrawsacrowd.com.