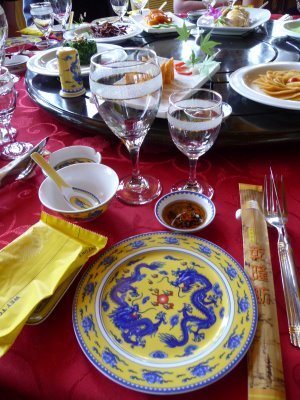 每天图像 – an image a day
I thought I'd start a blog that 1. I can actually access from China and 2. has a focus. So, I'm going to try and post an image every day (that I've produced) starting today.
Today's image was taken at a restaurant in Hangzhou (called "舫隆乾" – fang long qian) that was once a boat but is now a fancy eatery. I particularly liked the plates here, because of all the China that I've seen, my favorite color combination is this bright yellow and blue motif (mostly done during the Tang and Qing Dynasties). On the lazy susan are cold appetizers (冷菜): pickled turnip, marinated tofu, cold cut chicken, a kind of green leafy vegetable with a fresh herby taste, pickled jellyfish, and preserved duck tongue.